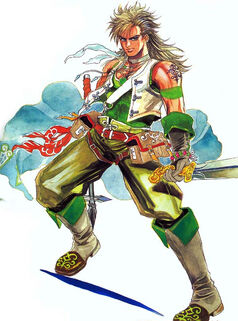 Wil Knights
is one of the 2 main protagonists in
SaGa Frontier 2
and the father of
Rich
. Born into a digger family rich in tradition the death of Wil's parents result in him moving to
Westia
to live with his aunt and uncle. At the age of 15 Wil leaves Westia to become a famous digger in his own right. After setting out, he soon stumbles across the infamous digger Alexei Sergein and stories of a mysterious Quell called the
Egg
, which leads him on a personal quest to discover the true story behind his parent's deaths.
At 27 he returns from the frozen wastes of Weissland, earning himself the title of "Tycoon Wil". His exploits here become widely known as his greatest achievement, all the while still pursuing his personal quest for the Egg. With the help of his grandaughter Ginny Knights, he finally succeeds at the age of 86.

Scenario History
Starting Equipment
Sapling Staff
Buckler
Hat
Leather Armor
Fur Boots
Trivia
The player can determine whom the mother of Rich Knights shall be. If the player does not take Cordelia for the "Infiltrate! Alexei Gang" quest, then she will become his future wife. If the player takes Cordelia, then she will die and Labelle will become Wil's wife. The authors admit that they originally did intend to make Labelle the canonical wife of Wil, but with how little developement time Labelle was given in the story, it's no surprise that most fans of the game can only imagine Cordelia to be alongside Wil.
Gallery
Ad blocker interference detected!
Wikia is a free-to-use site that makes money from advertising. We have a modified experience for viewers using ad blockers

Wikia is not accessible if you've made further modifications. Remove the custom ad blocker rule(s) and the page will load as expected.