West Cave
is a dungeon location in
Romancing SaGa: Minstrel Song
.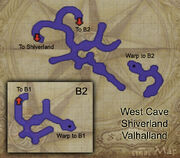 This cave system is part the vast snowy plains of Shiverland in Valhalland, and often becomes overrun by monsters.
Access to the B2 level is restricted by large icicles until you defeat the mini-boss at the end of level B1. Behind the boss, is a chest with Gothic Armor in (requires Level 2+ Jump), which can be a good source of defence early in the game.
When you gain access to the lower floor, making your way to the end will grant you access to 5 frozen pillars. Standing between the pillars you can warp to the separate section of floor B1.
Related Quests
Useful Proficiencies
Ad blocker interference detected!
Wikia is a free-to-use site that makes money from advertising. We have a modified experience for viewers using ad blockers

Wikia is not accessible if you've made further modifications. Remove the custom ad blocker rule(s) and the page will load as expected.