Weiserheim
is a location in
Romancing SaGa: Minstrel Song
.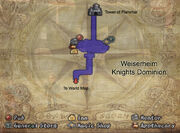 Part of the Knights Dominion, Weiserheim is home to the Tower of Flammar, where Lady Flammar guards the Ruby of Fire. She can also teach you the best Pyrology spells in the game, for a price.
To unlock this city, one must progress through either the Constance Kidnapped or the Theodore's Madness quests
Pub
Inn
Mentor
Training
Herbalist - Terrology, Survival, Gathering
Wizard - Staff, Pyrology, Aerology, Demonology, Cosmology
Trader - Survival, Strategy, Trading
Cratsman - Short Sword, Cosmology, Strategy
Proficiency
Find Chests - Search - 50 G
Find Herbs - Search - 50 G
Harvest - Gathering - 100 G
Climb - Survival - 100 G
Trade - Trading - 300 G
General Store
Apothecary
Magic Shop
Aerology
Blades of Wind - 200 G
Strengthen Pull - 300 G
Blood Curdle - 700 G
Summon Element - 1000 G
Missile Shield - 1200 G
Hydrology
Healing Water - 200 G
Water Blast - 300 G
Holy Water - 500 G
Summon Element - 100 G
Terrology
Pulverize - 200 G
Camouflage - 300 G
Earthen Grasp - 500 G
Summon Element - 100 G
Pyrology (from Lady Flammar)
Hellfire - 200 G
Flame of Life - 300 G
Self-Immolation - 500 G
Summon Element - 1000 G
Bird of Fire - 1800 G
Revive - 3200 G
Trivia
The name Weiserheim translates to "Wise Home", possibly linked to the presence of Lady Flammar. However based on the fact that both Mirsaburg and Eugenstadt have the names of Mirsa and his ally in the name, it is possible that among Mirsa's allies, there was also someone called "Weiser".
Ad blocker interference detected!
Wikia is a free-to-use site that makes money from advertising. We have a modified experience for viewers using ad blockers

Wikia is not accessible if you've made further modifications. Remove the custom ad blocker rule(s) and the page will load as expected.