Shiverland
is a battleground location in
Romancing SaGa: Minstrel Song
.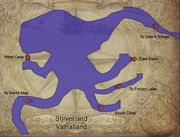 Snowy plains cover most of Valhalland and Shiverland is no exception. The Vast area of snow is littered with caves as well as a nearby frozen lake, said to be the legendary Frosthold Fortress. The West Cave is the most expansive, often becoming overrun with monsters.
Shiverland also borders the only known settlement, Gato's Village, to the northeast.
To unlock this location, one must recruit Sif.
Related Quests
Useful Proficiencies
Find Chests
Disarm Traps
Find Herbs
Harvest
Jump (caves)
Ad blocker interference detected!
Wikia is a free-to-use site that makes money from advertising. We have a modified experience for viewers using ad blockers

Wikia is not accessible if you've made further modifications. Remove the custom ad blocker rule(s) and the page will load as expected.