Oapu
is a location in
Romancing SaGa: Minstrel Song
.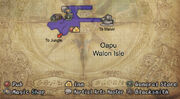 Located on Walon Isle, Oapu is one of the two small coastal villages that inhabit the shores of the island. Located on the outskirts of a jungle, the townpeople are wary of the native Gecklings on the isle, as many harbor resentment towards humans.
Diana can be found and recruited here, unless you have Albert on your team.
To unlock Oapu one has to either walk through the jungle from Godongo, or by taking a ship from Melvir.
Pub
The Minstrel - Swap out party members, play songs, hear tales
Inn
Rest in the Lobby - Free - Restore all proficiencies
Standard Room - 25 G - Restore all proficiencies & LP
Superior Room - 75 G - Restore all proficiencies, LP and DP of untempered weapons
Deluxe Room - 150 G - Restore all proficiencies, LP, DP of all weapons & add 10 to First-Aid kit
General Store
Shirt - 28 G
Socks - 9 G
Leather Boots - 85 G
Fang Amulet - 475 G
Balm - 190 G
Blancazure - 465 G
Walon Weapons
Harpoon - 950 G
Garal Steel Axe - ??? G
Buckler - 114 G
Target - 307 G
Leather Jerkin - 570 G
Alligator Vest - 2090 G
Blacksmith
Weapon
Repair Weapon
Add Bronze
Add Native Silver
Increase Attack Power
Improve Durability
Change Mode - Attack, Trick
Armor
Add Bronze
Add Native Silver
Increase PHY DEF
Increase MAG DEF
Martial Arts Master
Attack Style - 40 G
Shield Style - 60 G
Dual Style - 80 G
Magic Shop
Demonology
Energy Bolt - 200 G
Weapon Blessing - 400 G
Armor Blessing - 400 G
Enchance Spells - 400 G
Bewitchery
Way of Defense - 600 G
Way of Spirit - 600 G
Way of Strength - 600 G
Trivia
The Blacksmith only becomes available after successfully completing the quest "Free the Gecklings".
Ad blocker interference detected!
Wikia is a free-to-use site that makes money from advertising. We have a modified experience for viewers using ad blockers

Wikia is not accessible if you've made further modifications. Remove the custom ad blocker rule(s) and the page will load as expected.