Mt. Scurve
is a dungeon location in
Romancing SaGa: Minstrel Song
.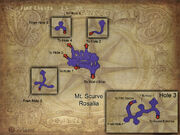 A colossal mountain that resides in the south of Rosalia, Mt Scurve is home to Avi; The Lord of Birds and one of the Elemental Lords. Obtaining one of Avi's feathers is a mark of courage, with only 2 people ever having accomplished the feat before; King Karl I and Prince Neidhart.
If you manage to reach the summit of Mt. Scurve you can approach Avi to claim a feather and prove your courage, but Avi will also request you undertake a mission for him; obtaning the Ignigarde from Pyrix, the Elemental Fire Lord of Mt. Tomae.
Related Quests
Useful Proficiencies
Find Chests
Disarm Chests
Climb
Ad blocker interference detected!
Wikia is a free-to-use site that makes money from advertising. We have a modified experience for viewers using ad blockers

Wikia is not accessible if you've made further modifications. Remove the custom ad blocker rule(s) and the page will load as expected.