Were you looking for Monica (Romancing SaGa 3)?
Monica
is a minor NPC character in
Romancing SaGa
and its remake
Romancing SaGa: Minstrel Song
.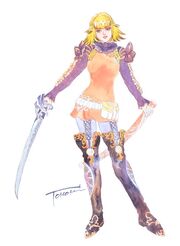 Appearances
Albert's Scenario: She rescues Albert and nurses him back to health after the attack on Isthmus Keep
Other scenario: During the quest "Neville's Request", Lord Neville will ask you to see Monica in Loban to discuss the whereabouts of Gian
Background and Story
She is an agent of the Bafal Empire, who works largely undercover to investigate suspicious people and incidents. She resides in her own house on the edge of Loban (near the item shop), where she is currently keeping an eye on the Duke Cornelio.
She helps the player out during the "Neville's Request" mission, as well as playing a key role in the beginning of Albert's scenario.
Trivia
During the ending sequences of the game, there is a scene with Gian and Monica, having escaped some form of peril.
If you fail to correctly answer her question "Who sent you?" during Neville's Request, it results in a Game Over.
Oddly, if you choose to say you were sent by the Duke of Loban, Monica will tell the player directly not to lie to her. Should you choose the wrong choice a second time, the Game Over screen will begin to appear, only for the game to resume as though nothing happened, complete with Monica playfully taunting the player. If the player gets it wrong a third time however, Monica will get angry and actually end the game then and there. The password is "Rain from Eurus".
Fans like to think of it as no coincidence that her design in the remake is clearly based on Monica from Romancing SaGa 3, same with Gian.
Ad blocker interference detected!
Wikia is a free-to-use site that makes money from advertising. We have a modified experience for viewers using ad blockers

Wikia is not accessible if you've made further modifications. Remove the custom ad blocker rule(s) and the page will load as expected.