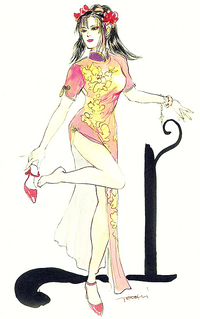 Mei-ling is a human female in SaGa Frontier.
Riki's Quest
She meets Riki after he arrives in Scrap, and helps him obtain the rings. After all of the rings are gathered, she and the party go to Margmel. When Margmel's residents disappear from Riki's wish, Mei-ling reveals the true nature of the rings, and that she has the black ring. She transforms into the Master Ring, and is defeated. After her defeat, she returns to normal.
Other Quests
Mei-ling automatically joins T260G prior to its confrontation with Mr. Caballero in Scrap.
She will join Blue, Lute, and Emelia. She does not join Red or Asellus.
Ad blocker interference detected!
Wikia is a free-to-use site that makes money from advertising. We have a modified experience for viewers using ad blockers

Wikia is not accessible if you've made further modifications. Remove the custom ad blocker rule(s) and the page will load as expected.