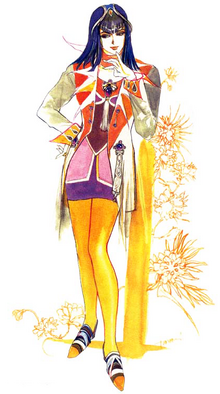 Liza is a human female who works at Roufas's Restaurant in Koorong and is an agent of Gradius. Liza is at the top when it comes to learning Martial Arts techniques among the cast of female humans and sparks them easily. Among the male humans, Fei-on is her equal when it comes to the Martial Arts learning rate. Strangely enough, despite Annie being the resident blade user of Gradius, Liza actually sparks most Sword techniques more easily than her friend, according to her internal learning rate data.
Emelia's Quest
Liza and Annie help Emelia escape Despair. She helps her on missions to confront Joker.
Red's Quest
Liza offers to accompany Red to Shuzer's Base after he has dinner with Annie.
Blue's Quest
If Blue recruited Roufas in Shrike during the Rune Quest, Liza offers to escort Blue to the entrance of the Natural Cave which contains the Hide Rune.
Riki's Quest
Liza refers Riki to Annie when she overhears that Riki needs to sneak into Despair. She does not join Riki.
Lute's Quest
If Lute recruited Roufas, Liza is in the restaurant. She does not join Lute.
Gallery
Ad blocker interference detected!
Wikia is a free-to-use site that makes money from advertising. We have a modified experience for viewers using ad blockers

Wikia is not accessible if you've made further modifications. Remove the custom ad blocker rule(s) and the page will load as expected.