Jelton
is a location in
Romancing SaGa: Minstrel Song
.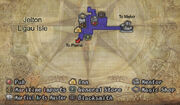 Located on Ligau Isle, it is the only settlement and sits on the coast at the edge of a large, grassy plain. Access to Melvir in the Bafal Empire can be achieved by boarding the ship in port.
To unlock Jelton one has to either recruit Gray, or to take a ship from Melvir(50g).
Pub
Inn
Mentor
Training
PIrate - Foil, Hand Axe, Hydrology
Theif - Foil, Strategy, Search
Martial Artist - Martial Arts, Scimitar, Katana, Staff, Pole Arm, Bow
Blacksmith - Club, Pyrology, Gathering
Ascetic - Martial Arts, Staff, Terrology
Proficiency
Find Treasure - Search - 50 G
Excavate - Gathering - 100 G
Climb - Survival - 100 G
Jump - Survival - 100 G
Move Silently - Covert - 200 G
Ambush - Covert - 400 G
Maritime Imports
General Store
Blacksmith
Weapons
Repair Weapons
Add Bronze
Add Ligau Steel
Add my materials
Increase Attack Power
Improve Durability
Change Mode - Attack, Defense, Trick
Armor
Add Bronze
Add Ligau Steel
Add my materials
Improve PHY DEF
Improve MAG DEF
Martial Arts Master
Attack Style - 40 G
Assault Style - 100 G
Trick Style - 100 G
Magic Shop
Pyrology
Hellfire - 200 G
Flame of Life - 300 G
Self-Immolation - 500 G
Summon Element - 1000 G
Demonology
Energy Bolt - 200 G
Weapon Blessing - 400 G
Armor Blessing - 400 G
Ad blocker interference detected!
Wikia is a free-to-use site that makes money from advertising. We have a modified experience for viewers using ad blockers

Wikia is not accessible if you've made further modifications. Remove the custom ad blocker rule(s) and the page will load as expected.