Isthmus
is a location in
Romancing SaGa: Minstrel Song
.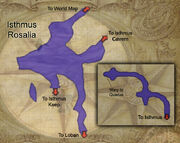 A cliff-top plateau, which is home to the Isthmus Keep, the Isthmus region is a part of Rosalia, having been wrestled away from the Bafal Empire. The Isthmus plateau also houses the Isthmus Cavern, which has a mysterious link to the old God Saruin.
To unlock Isthmus one has to:
Recruit Gray
Recruit Albert
Talk to the female NPC close to the keep in Loban
Complete one of the 3 ending quests
Early on in the game, inside the keep, there's Albert, whom can be recruited.
Useful Proficiencies
Ad blocker interference detected!
Wikia is a free-to-use site that makes money from advertising. We have a modified experience for viewers using ad blockers

Wikia is not accessible if you've made further modifications. Remove the custom ad blocker rule(s) and the page will load as expected.