Gruegel
is a city in
SaGa Frontier 2
, and under the rule of King Sui of Na. Gruegel is the capital of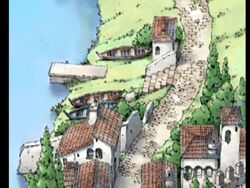 Na, a country located on the Southern Continent. The city sits next to the
Vogelang
Canyon and enters out onto the Grand Desert, home of an ancient Megalith. Despite it's vicinity to a Megalith, the Southern Continent (by large) has no Quells, and the people have to rely on custom made Tools.

Gruegel is a great place to buy/convert Chips as well as purchase custom made Tools, providing you have the money and Chips to do so.
Scenarios
Trivia
Ad blocker interference detected!
Wikia is a free-to-use site that makes money from advertising. We have a modified experience for viewers using ad blockers

Wikia is not accessible if you've made further modifications. Remove the custom ad blocker rule(s) and the page will load as expected.