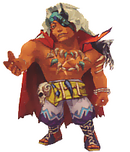 Butcher is an antagonist in the game Romancing SaGa: Minstrel Song.
He is the current leader of the Coral Sea pirates after the betrayal of Captain Hawke. He has committed many murders, as well as being responsible for kidnapping and slave trading and conspiring to attack the Empire.
During the quest "Pirate Invasion", Butcher leads his band of pirates in an attack on the Bafal Empire capital of Melvir. If your main character is anyone other than Hawke, this is the only time you will encounter Butcher, where you can fight him in the Melvir port.
After the battle, if your main character is Hawke, you can choose to board a nearby boat and chase after Butcher, settling the score once and for all. You will be rewarded with a Salty Bandana (head armor) for victory, however, this course of action forfeits completing the "Pirate Invasion" quest.
Ad blocker interference detected!
Wikia is a free-to-use site that makes money from advertising. We have a modified experience for viewers using ad blockers

Wikia is not accessible if you've made further modifications. Remove the custom ad blocker rule(s) and the page will load as expected.