Bruelle
is a location in
Romancing SaGa: Minstrel Song
.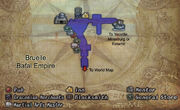 Sitting on the western coast of the Bafal Empire, Bruelle is a small town with access to Rosalia, Knight's Dominion and Kjaraht via the port.
To unlock Bruelle one has to either recruit Gray, or to reach it via ship from North Estamir, Yeoville, or Mirsaburg.
Pub
Inn
Rest in the Lobby - Free - Restore all proficiencies
Superior Room - 75 G - Restore all proficiencies, LP and DP of untempered weapons
Deluxe Room - 150 G - Restore all proficiencies, LP, DP of all weapons & add 10 to First-Aid kit
Luxury Room - 400 G - Restore all proficiencies, LP, DP of all weapons & add 20 to First-Aid kit
Mentor
Training
Imperial Knight - Foil, Great Sword, Two-Handed Axe, Shield, Cosmology
Imperial Marine - Short Sword, Scimitar, Hand Axe, Aerology, Survival
Blacksmith - Club, Pyrology, Gathering
Swordsman - Long Sword, Foil, Two-Handed Sword
Entertainer - Martial Arts, Long Sword, Covert
Proficiency
Fine Ore - Search - 50 G
Find Herbs - Search - 50 G
Mine - Gathering - 100 G
Harvest - Gathering - 100 G
Lurk - Covert - 200 G
Ambush - Covert - 400 G
Draconian Merchants
Great Shield - 275 G
Fashionable Helm - 3960 G
Conqueror Gloves - 3300 G
Garal Sword - 7030 G
Garal Spear - 8610 G
Garal Steel Axe - 7030 G
General Store
Imperial Short Sword
Cutlass - 450 G
Gladius - 1600 G
Hanger - 3100 G
Buckler - 120 G
Targe - 320 G
Rondache - 950 G
Bruelle Weaponry
Zweihander - 200 G
Gothic Sword - 1100 G
Great Axe - 9500 G
Battle Mage Armor - 6600 G
Leg Mail - 2900 G
Port Emporium
Town Sword - 3300 G
Leather Jerkin - 600 G
Quarterstaff - 2400 G
Studded Gloves - 80 G
Blam - 200 G
Blacksmith
Weapon
Repair Weapon
Add Southern Iron
Add Native Silver
Add Garal
Add my materials
Increase Attack Power
Increase Durability
Change Mode - Attack, Defense, Trick, Attack/Defense, Attack/Trick, Defense/Trick, Improve Versatility
Armor
Add Southern Iron
Add Native Silver
Add Garal
Add my materials
Increase PHY DEF
Increase MAG DEF
Martial Arts Master
Attack Style - 40 G
Shield Style - 60 G
Trick Style - 100 G
Defense Style - 120 G
Trivia
When playing as Albert it is possible to see Diana outside the castle-type building, despite the obvious storyline conflict. However, due to the guards blocking the entrance you can never approach, or interact with her.
In the PS2 remake, Bruelle is the only city in the game with no quests in it, this is due to the fact that the one quest it had in the SNES original was not brought to the remake. This is why the fortress in which Diana is kept has guards and yet there's a "???" sign suggesting that one could enter this building, which is not the case.
Ad blocker interference detected!
Wikia is a free-to-use site that makes money from advertising. We have a modified experience for viewers using ad blockers

Wikia is not accessible if you've made further modifications. Remove the custom ad blocker rule(s) and the page will load as expected.