Desert Megalith (1236) is the # 2nd scenario of Wil Knights side of the story in SaGa Frontier 2.
"Seeking answers about his parents death, Wil heads for the desert"
Wil's aunt and uncle provide you with further information on Alexei and your father. Apparently, you father accompanied the three Sergein brothers to the Grand Desert. Only he and Alexei ever returned, along with a strange Egg.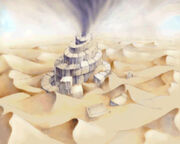 Timeline
Preceeded: Wil's Departure, Gustave 15 Years Old (Gustave)*
Unlocks: Infiltrate! Alexei Gang, Reunion (Gustave)*, Mother's Sickbed (Gustave)*
(* If there are less than 3 hitherto completed scenarios on the world map)
Objective
Head to Vogelang and the Desert Megalith to gather information on your father and Alexei Sergein's expedition. Aunt Nina joins your party as you head to Westia. Enter the Inn and recruit your previous party of Cordelia, Narcisse and Tyler before heading for Gruegel. Do a little shopping (bottom left building) and talk to the inhabitant here in the capital city of the kingdom of Na to gain some information on Quells and the Megalith before heading into the interior.
You will now be in Vogelang Canyon, which is riddled with monsters. Follow the canyon path left then north above a lake.
Optional: Take the southwest path back a screen to the lake you saw previously. Examine it to recover your HP, but be careful as you can also be attacked by monsters.
Pass under the stone arch, heading to the northeast corner. Pass under another stone arch and head out the northwest exit. Follow the narrow path as it loops south to a grassy oasis surrounded by monsters. Head west here to enter the town of Vogelang.
Check out the item shop (to the left) and talk to the people in the square to gain some valuable information about the Sergein's expedition and the mysterious Egg. When you are ready head to the Inn (middle right building) and talk to the landlady. Ask her about the guest book and read the information about the Sergein brothers Alexei, Nicholai and Peter and your father Henry Knights. The landlady hands you a note left by your father and you decide to visit the Desert Megalith.
Leave Vogelang to the south to automatically arrive at the Megalith. Watch the scenes to see the party find a strange lead box within the Megalith, but the mysterious Egg Quell is missing. It seems only Alexei Sergein knows the truth about what happened to your father during their expedition.
Characters
Notable Items
None
Gruegel Item Shop
Vogelang Item Shop
Notable Enemies
Horn Buffalo - 2405 HP, chance to drop Protector (armour), very strong opponent
Notes
Ad blocker interference detected!
Wikia is a free-to-use site that makes money from advertising. We have a modified experience for viewers using ad blockers

Wikia is not accessible if you've made further modifications. Remove the custom ad blocker rule(s) and the page will load as expected.